KTTV, channel 11, is an owned-and-operated television station of the News Corporation-owned Fox Broadcasting Company, located in Los Angeles, California. Serving the vast Los Angeles metropolitan area, KTTV is a sister station to KCOP (channel 13), Los Angeles' MyNetworkTV affiliate. The two stations share studio facilities within the Fox Television Center in West Los Angeles, and KTTV's transmitter is located on Mount Wilson.
In the few areas of the western United States where viewers cannot receive Fox network programs over-the-air, KTTV is available on satellite via DirecTV.
History
KTTV began operations on January 1 1949. The station was operated initially by KTTV, Incorporated, jointly owned by the Times-Mirror Company, publishers of the Los Angeles Times (51 percent), and CBS (49 percent). As such, KTTV was the original Los Angeles affiliate of the CBS television network. During their partnership, the Times turned down at least two offers CBS made to purchase KTTV outright. The joint partnership lasted exactly two years, until January 1, 1951, when CBS sold its stake in channel 11 back to Times-Mirror. CBS then moved its programming to newly-acquired KTSL (channel 2, later KNXT and now KCBS-TV). From that point, KTTV carried many of the programs from the DuMont Television Network for the next three years.
In 1954 DuMont moved its affiliation to KHJ-TV (channel 9, now KCAL-TV), and KTTV began its status as an independent television station. In 1958, channel 11 became the television home of the Los Angeles Dodgers baseball team (which had relocated from Brooklyn, New York to Los Angeles that year), and the relationship between KTTV and the Dodgers would last until 1992. The Times-Mirror Company sold the station to Metromedia in 1963.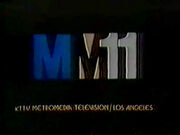 By the 1970s KTTV offered the traditional independent schedule, consisting of children's programs, off-network reruns, sports programming, and movies, along with a 10:00 p.m. newscast. For a time during the mid-1980s, KTTV aired an 8 p.m. newscast, and moved its 10 O'Clock News to 11:00 p.m. in order to compete with KABC-TV, KNBC-TV, and KCBS-TV. The station, along with KTLA, KCOP, and KHJ-TV were seen on various cable television outlets in the southwestern United States during the 1970s and into the 1980s, most notably in El Paso, Texas.
Australian newspaper publisher Rupert Murdoch and his company, the News Corporation (who were controlling owners of the 20th Century Fox film studio), purchased KTTV and the other Metromedia television stations in 1986, and those stations formed the basis for the new Fox television network.
The format initially was unchanged, but the 8 O'Clock News was dropped and the 11 p.m. newscast was reverted to its 10 p.m. slot shortly after Fox took over. KTTV dropped the morning cartoons for a new morning news show called Good Day L.A., which premiered in 1993. Though Good Day L.A. was created in response to KTLA's Morning News (which premiered two years earlier), it was inspired by sister station WNYW's Good Day New York, which was launched in 1988. They also added more first-run syndicated shows such as talk shows, court shows, and reality shows. For a while they continued with afternoon cartoons from the network, known as Fox Kids, as well as top rated off-network sitcoms in the evenings.
In Fall 2001, channel 11 dropped the weekday version of Fox Kids and moved it to its longtime rival and new sister station, KCOP (channel 13). The Fox Kids weekday block was ended altogether in January 2002. With the lineup left to air Saturday mornings under the name change to Fox Box, then 4Kids TV, KTTV brought Fox children's programming back to the lineup and continues to air it today.
KTTV offers around 35 hours per week of local news, and its 10 p.m. newscasts have been the top-rated in that time period for much of the last decade. However, channel 11 is the largest Fox-owned station (in terms of market-size) not yet offering an early evening and midday newscast (which they did in the early to mid-1980s). They still run many syndicated sitcoms in the evenings, such as (as of 2006) The Simpsons, King of the Hill, Malcolm in the Middle, and Married... with Children.
On an ironic note, KTTV also runs daily reruns of another sitcom, I Love Lucy, which had premiered months after the station lost its CBS affiliation. Reruns of the sitcom, which was filmed in Hollywood, are still popular among Southern California viewers and have continued to air in the L.A. area endlessly since the series ceased production in 1957, thus making KTTV only the second station in Los Angeles (KCBS-TV was the other) to continue airing the sitcom after it ended almost 50 years ago.
In 1996, the station's longtime home on Sunset Boulevard in Hollywood, known as "Metromedia Square" (and later renamed the "Fox Television Center") was vacated. KTTV relocated to new studios a few miles away on South Bundy Drive in West Los Angeles, near the Fox network headquarters (the network's headquarters are on the lot of 20th Century Fox studios). The historic television studio at Metromedia Square, once home to Norman Lear's Tandem Productions and TAT Communications Company, also produced hit programs such as The Jeffersons, Mama's Family, Diff'rent Strokes, One Day at a Time, Hello, Larry, Soul Train, Mary Hartman, Mary Hartman, Small Wonder and the groundbreaking sketch comedy In Living Color. It was demolished in 2003 to make way for a new middle school being built by the Los Angeles Unified School District.
On April 17, 2006, KTTV launched a new look for its newscasts, including new theme music and graphics, as well as a new station logo. Similar in style to the Fox News Channel, this look has been standardized by other Fox owned-and-operated stations. The station also launched a new website based on Fox Television Stations' new MyFox interface on May 16, 2006; this format became standardized on all Fox-owned station sites by the end of 2006.
As of April 2008, KTTV is one of the three stations in Los Angeles that has yet to start broadcasting local news and programming in High Definition; the other two being KNBC and KCOP. KTTV and KCOP have not yet announced plans to do so.
Digital television
| Channel | Programming |
| --- | --- |
| 11.1 / 65.1 | main KTTV/Fox programming |
Post-analog shutdown
After the analog television shutdown and digital conversion, which is tentatively scheduled to take place on February 17, 2009[1], KTTV will move its digital broadcasts back to its present analog channel number, 11.[2]
Current personalities
Anchors
Carlos Amezcua

- weeknights

Lisa Breckenridge

- Fox 11 Morning News and Good Day L.A.

Christine Devine

- weeknights

Steve Edwards

- co-host, Good Day L.A.
Susan Hirasuna - weekends

Dorothy Lucey

- co-host, Good Day L.A.

Jean Martirez

- Fox 11 Morning News

Tony McEwing

- Fox 11 Morning News
Jeff Michael - weekends

Jillian (Barberie) Reynolds

- weather reporter/co-host, Good Day L.A.

Gina Silva

- Fox 11 Morning News Sunday

Robb Weller

- Fox 11 Morning News Sunday
Weather
Rick Dickert - Fox 11 Morning News (also traffic reporter, Good Day L.A.)

Mark Thompson

- weeknight meteorologist
Amy Murphy - weekends
Sports
Rick Garcia - sports director/weeknights
Reporters
Chris Blatchford

Bob DeCastro

Hal Eisner

Christina Gonzalez

Gigi Graciette

Ed Laskos

Rick Lozano

Al Naipo

Karen Posada

John Schwada

Phil Shuman

Leelila Strogov

Tricia Takasugi

Nischelle Turner

- Good Day L.A.

Tony Valdez

Jane Yamamoto
Notable alumni
(a partial listing)
Gary Apple

Larry Atteberry

John Beard

Rod Bernsen
Marcia Brandwynne
Dave Bryan

Jennifer Bjorklund

Rick DeReyes

Bob Donley

Tom Duggan

Suzanne Dunn

Elizabeth Espinosa

Hal Fishman

David Garcia

Bernard Gonzales

Lisa Guerrero

Sam Hall Kaplan
Chris Harris

Ken Jones

Lisa Joyner

Randy Kerdoon

Gregg Ketter

 

Susan Lichtman Taylor

Carol Lin

Sam Chu Lin

Rick Monday

Antonio Mora

Andrea Naversen

Kent Ninomiya

Aidan Pickering

George Putnam

Steve Rambo

Bill Redeker

Bill Ritter

John Roland

Charles Rowe
Barbara Schroeder
Dan Springer

Jim Thomas

Sarah Wallace
Kirstie Wilde
Janet Zappala
Helicopter Information
SkyFox Eurocopter A-Star 350 B-1
KTTV operates two helicopters. One helicopter, which was previously operated by KTLA, was lost in 2000 after covering the Academy Awards and crashed at Van Nuys Airport. The helicopter was known back then as "Sky Fox 2."
Newscast Titles
Metro News (1970s)
LA 11 News (Early 1980s)
Channel 11 News (1980s)
The 10 O'Clock Report (1982-1983)
The 8 O'Clock News (1984-1986)
The 11 O'Clock News (1984-1986)
The 10 O' Clock News (1986-1987)
Fox News (1987-1994)
Fox 11 News (1995-present)
Rebroadcasters
KTTV is rebroadcast on the following translator stations:
See also
References
External links
BIAfn's Media Web Database -- Information on KTTV-TV
Broadcast television in the

Los Angeles

market (Nielsen DMA #2)
Local stations

KCBS 2 (CBS) · KNBC 4 (NBC, 4.2 WX+, 4.4 News) · KTLA 5 (The CW) · KSFV-LP 6 (Spanish / Religious) · KABC 7 (ABC, 7.2 ABC+, 7.3 AccuWX) · KCAL 9 (Ind) · KTTV 11 (Fox) · KCOP 13 (MNTV) · KSCI 18 (Ind) · KWHY 22 (Ind / Spanish) · KNET 25 (Infomercials) · KNLA 27 (Ind / Spanish) · KCET (28 PBS, 28.2 Orange, 28.3 V-me, 28.4 PBS World) · KPXN (30 ION, 30.2 qubo, 30.3 ION Life, 30.4 Worship) · KMEX 34 (UNI) · KTBN (40 TBN, 40.2 TCC, 40.3 JCTV, 40.4 Enlace, 40.5 Smile) · KXLA 44 (Ind) · KSKJ 45 (CoL) · KFTR 46 (TFU) · KOCE (50 PBS, 50.1 HDTV, 50.2 OC Channel, 50.3 Daystar) · KVEA 52 (TEL) · KAZA 54 (AZA) · KDOC 56 (Ind, 56.3 BVM) · K55KD 57 (Almavision) · KJLA 57 / KSMV-LP 33 (LATV) · KLCS (58 PBS, 58.2 Kids, 58.3 Create, 58.4 Annenberg/CPB) · KRCA 62 (Ind) · KBEH 63 (MTV3) · KTAV 69 (Almavision)

Stations in
outlying areas


KVTU-LP 3 (Unknown) · K06MU 6 (Ind) · K06OL 6 (Ind) · KCIO-LP 6 (Unknown) · KTSK-LP 17 (Unknown) · KBBC 20 (Ind) · KHIR-LP 22 (Ind) · KIMG-LP 23 (Retro Jams) · KVCR 24 (PBS) · KBLM-LP 25 (MTV3) · KSKP-CA 25 (CoL) · KZSW-LP 27 (Ind / Inland Empire Local News) · K36JH 36 (Vida) · KPAL-LP 38 (Ind) · K39GY 39 (A1) · KLAU-LP 45 (Christian Vision) · KEDD-LP 50 (MTV3) · KHIZ 64 (A1) · KHTV-LP 67 (HSN)

Digital-only


channels

KFLA (8.1 A1, 8.2 Corner Store TV) · KVMD (23.1 Almavision/Jewelry TV, simulcast 44.2 KJLA-TV, 57.3 KXLA-TV)

Local

cable


channels

Public Access


Television

KCSB 3 San Bernardino · KFON 3 Fontana · KRTO 3 Rialto · MVTV 3 Moreno Valley

Defunct local
stations

KKOG 16 (Ind) · KWJD-LP 25 (Silent) · KVST / KEEF 68 (non-commercial)

Template:California TV Markets
Template:Fox California